Jun
19
From the YouTube posting:
"All the World is a Stage Folks... Here is some "live" footage of the spill, direct from CNN. Take note of the Stage door opening in the center background at 29 sec, 38 secs and 5.12 min into the footage .... oops...
So How do they explain a door opening at 5000 ft under the ocean...???
they are obviously not showing us the real leak.... so its either 10 times worse than they are telling us... or its a hoax... are all those tankers in the gulf skimming up oil or are they dumping it into the water? Maybe what is seen here is simply a reflection from a studio monitor screen and they simply dont want people to see the full extent of the damage. But why on earth would CNN allow this footage to be released... what is going on here folks? Are CNN up to their old tricks again?"
I dunno, what do you think?
Well.... CNN has proven they are capable of doing such a thing before... see the video below...
So, is the Gulf Oil Spill Cam a FAKE too?
Tags:
Jun
19
This document is well worth downloading and reviewing from: http://www.restoreamericaplan.net/newsbreak
Notice of Lis Pendens; International Maritime Execution
My questions regarding these documents:
a) the trustees...are these folks claiming status or standing within the defacto corp? I ask because of them NOT stating united States with lower case united...they are consistent
b) its a damn compelling read...if they want it to go viral it needs to be text or html ready so we will have to retype it to ppublish as a web page....assuming all will download and read an attachment is folly
c) is this an attempt to adjudicate or leverage within the defacto system? I ask due to the citation of the UN on the first FAX cover page to the International Court of Justice....
Jun
19
This is a DRAFT Document. Feel free to use all or some of this for your own purposes.
Political Candidate Questionnaire
Dear Candidate,
I'm writing on behalf of SuperLiberty.com, a group taking pride in assuring we cast informed votes.
To do so, we must know if you agree with some of our core beliefs, America's problem, and our goal.
Please help us by completing this questionnaire and returning it by email to Webmaster@superliberty.com.
(Please circle your answers below.)
1. Have you studied America's Declaration of Independence, the Constitution of the United States,
your State's Constitution and the Bill of Rights?
Yes No
2. If Yes, do you think you understand the spirit and intent of their authors?
Yes No
If Yes, please proceed.
3. Are you or have you ever been a member of the Council of Foreign Relations?
Yes No
4. The Declaration of Independence is our Nation's birth certificate and all of our Constitutions'
cornerstone. For lawful government to exist, it must comply with the principles and policies set
forth in these documents and the Bill of Rights when interpreted in the spirit and intent of
America's founders.
Agree Disagree
5. Through the US Constitution, the States created the federal government as their AGENT. As
principals to the US Constitution and under the Law of Agency, our States possess the ultimate
authority and responsibility for the proper interpretation and implementation of the US
Constitution.
Agree Disagree
6. Art. IV, Sec. 4 of the US Constitution requires that each State have a Republican form of
government and be protected from invasion.
Agree Disagree
Tags:
Jun
14
June 8, 2010

We can't make this stuff up.
US Labor Department's OSHA fines US Postal Service nearly $500,000
for exposing workers to electrical hazards at 2 Philadelphia facilities
"The Postal Service has 15 business days from receipt of its citations to comply, meet with the OSHA area director or contest the findings before the independent Occupational Safety and Health Review Commission."
No word yet, on where the US Postal Service will be getting the funds to pay the fine.
[Sidebar: An elderly woman I met recently, shared with me the flabbergasting experience she had when she hired an in home cleaning service in Iowa to help her. She has become relatively disabled due to arthritis and needed some help around the home.
The crew came in for the first time, did a great job, she said. Then she asked them to attend to the handful of dishes in her sink. "We can't do that," she was told. When pressed, she was told, "OSHA regulations won't allow us to do dishes in a person's home."
When she asked the vendor (I did not get the name, but will and follow up) to bring her documentation on how a privately owned business is precluded from choosing to do her dishes for a fee, no paper work was forthcoming... please comment if you have had any similar experiences.]
Tags:
Jun
13
From Whitehouse.gov, released June 10, 2010.
EXECUTIVE ORDER: ESTABLISHING THE NATIONAL PREVENTION, HEALTH PROMOTION, AND PUBLIC HEALTH COUNCIL
By the authority vested in me as President by the Constitution and the laws of the United States of America, including section 4001 of the Patient Protection and Affordable Care Act (Public Law 111-148), it is hereby ordered as follows:
Section 1. Establishment. There is established within the Department of Health and Human Services, the National Prevention, Health Promotion, and Public Health Council (Council).
Sec. 3. Purposes and Duties. The Council shall:
(c) contains a list of national priorities on health promotion and disease prevention to address lifestyle behavior modification (including smoking cessation, proper nutrition, appropriate exercise, mental health, behavioral health, substance-use disorder, and domestic violence screenings) and the prevention measures for the five leading disease killers in the United States;
Full Text: http://www.whitehouse.gov/the-press-office/executive-order-establishing-...
Since when did the Constitution provide the federal government (or any government) the authority to determine "proper nutrition" or "appropriate exercise"? What will "prevention measures" for the leading disease killers look like? It's a slippery slope, and we can thank the Congress that did not even read the damn bill for opening this pandora's box...
Jun
12
The Common Sense Revisited radio show on Republic Broadcasting Network, for June 12th, focused a great portion of the show on the Gulf Oil Spill. Below are many of the resources discussed on the show.
Video: BP Beach Boss Says He Has Authority to Keep Media Off Public Land
Is it possible British Petroleum is the law in Louisiana? Check out the man in the video below who insists he has the right to prevent the media from interviewing workers hired by BP to clean up its mess on the beach. BP says workers have permission to talk with the media, but it would seem after watching the video they are under instructions not to talk to the media if they want to keep their jobs in this jobless economy.

Building "BP City" For Workers
Jun
12
Radio Show Archive:Hour 1
On www.RepublicBroadcasting.org 12pm CST every Saturday
Third Rail Topics for Today!
Solutions Oriented
Power of the Sword, Power of the Purse
#1 Solution: Economic Sanctions
From the Articles of Freedom: "... if the government officials refuse to comply, the People shall engage in a nationwide, well-organized, pro-active, non-violent  series of civic actions, including economic sanctions if ultimately necessary, to peaceably procure the relief they are entitled to under our system of governance."
Without education, the people will not take action.
Without education, the people will not take action. The Articles of Freedom and the works of the Continental Congress 2009 are the most accessible, most thorough, most documented and most easily digestable resource available at this time.
Jun
7
Every few months I receive a forwarded email with a pre-amble, often customized or re-written by someone, but linking one to the USA Today Poll FROM NOVEMBER 2007:
http://www.usatoday.com/news/quickquestion/2007/november/popup5895.htm
The big question being: "Does the Second Amendment give individuals the right to bear arms?"
Options are: Yes, No, Undecided.
The forwarded email, of course, beseeches us to answer "YES, Let's show 'em!"
And, of course, sadly the results are 97% YES!
And there are over 6 MILLION respondents (since 2007).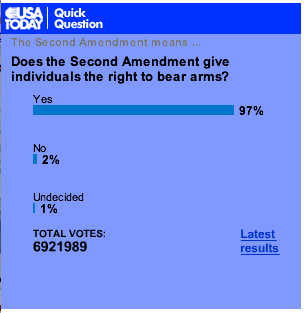 And, unfortunately it is a trick question... my reasoning is below... if you are so inclined please feel free to share with all who will listen...it is at the crux of how Americans view their relationship with our government, servant or master.
If i knew the editor at USToday or thought they would listen, i would have them change the poll... yeah right!
http://www.usatoday.com/news/quickquestion/2007/november/popup5895.htm
None of the Amendments "give" us our rights... that denotes a privilege that can be taken away was well.
Our rights are unalienable... naturally occurring to us... if given at all, then given to us by our creator.
The Amendments were put there to ensure that government does not "infringe" on our rights that were ours to begin with before government was formed.
The first 10 Amendments were all about what government "shall not" do. There's nothing about what government "shall allow".
So unfortunately the intention of the poll might be good (might be)... but it really is only going to create more uneducated Americans about their God-given rights.
Tags:
Jun
7
Here's the list of special interest groups Grassley is meeting with in the next week (pasted in below, from a memo from his staff)... the ones that they are telling us about... at least his office is issuing something to go by... it would be a full time job to keep up with all these folks seeking special dispensation from our oligarchy... wait, he has a huge staff to help him with all this, millions paid for by you and me and our future generations.. what a vicious circle... right before our eyes... i know this is not anything new... but i guess i have rarely noticed the level of detail here...
If the Congress stuck to its enumerated authority, it would not have the wherewithall to even hand out any loot to any of these groups, thus there'd be no meetings to be had... it's time to quit gifting from the treasury in order to maintain the welfare and warfare state... the cycle must be broken.
----
Update:
How can a congress person possibly keep up with all these meetings?
What would you do with a $2.4 million dollar staffing budget?
Think you'd figure out a way to have a staff around you to keep you in power for decades with that kind of financing?
Here's Chuck's staffing, travel, ear marks and more...
http://www.legistorm.com/member/45/Sen_Charles_Ernest_Grassley.html
His top staffer is making over $167,000 annually...
http://www.legistorm.com/person/David_Edmund_Young/2508.html
you can drill down on each staffer's disclosure forms too... see what kind of stocks they own...and where they have a mortgage... Edmunds has a mortgage for property worth $500K-$1M in DC... no wonder they need such high salaries...
May
29
MP3 Files: Hour 1
On www.RepublicBroadcasting.org 12pm CST every Saturday
Third Rail Topics for Today!
We The People Foundaiton & Articles of Freedom: Operation People Power National Conference Call Webinar Registration Information - Sunday May 30th 9pm EDT
Best Summary Version Available of the Articles of Freedom is Here as a PDF... 6 pages, with extensive footnotes, Bob Schulz Introduction, Summary Chart, Civic Action Pledge and Declaration
http://www.teapartypatriots.org/State/Iowa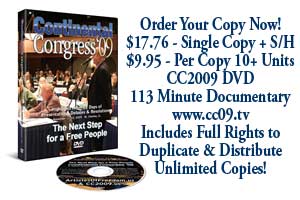 Get your copy of the Official 2 Hour Highlight DVD from the Continental Congress 2009. This powerful DVD Includes presentation highlights from each speaker and delegate debates from the floor. Educate others in you community about the issues and why the Continental Congress is such a powerful tool to restore our Country. Running Time: 113 Minutes
**This Official DVD includes the full rights to reproduce and distribute unlimited copies nationwide.
Single Copy Price: Only $17.76